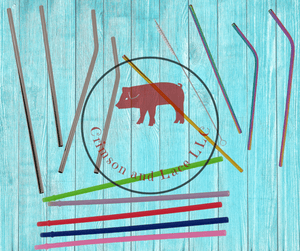 Can choose from plastic and stainless steel.
Reusable Multi-Colored Rainbow Metal Straws for 20 oz, 24 oz, 30 oz
Sizes are 8.5" and 10.5"; Straight straw, Bent straw, and Cleaning Brush options.
Reusable Stainless Steel Metal Straws
Bent straws of 10.5" for 30oz tumblers; Straight straws and bent straws of 8.5" for 20oz tumblers.
Plastic clear and colored Straws
Lavender purple, lime green, red, royal blue, pink, clear