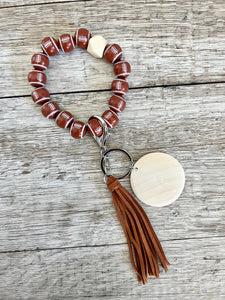 Wooden beads wristlet keychain with suede tassel and natural ivory color Chinese cherry wood pendant. The wristlet is adorned with a silver keyring and lobster claw clasp.
- Wristlet is made of a stretchy elastic band strung with 15mm wood beads
- Engrave-able round wood pendant is approximately 2"
*Small imperfections/flaws are to be expected and considered normal. Clasp/keyring configuration may vary and is easily changeable. Please review photos prior to purchase to ensure the wristlets and beads meet your expectations.