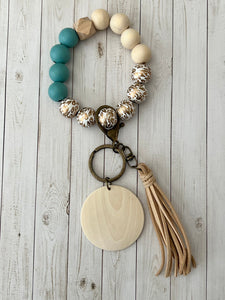 Wood beaded blue/gold cheetah keychain wristlet with suede tassel and wood pendant. These are keychain wristlets and not meant to be worn as a bracelet.  Wood pendant is approx 2".
It is the perfect gift for the woman in your life (wife, sister, best friend, grandma, aunt, etc.). Start planning for Christmas, Mother's Day, or birthday.
One size fits most. Minor imperfections are to be expected with all wood products.
If you want your monogram or something specific that we do not have as an option, reach out to us and we will make it happen! You can always add those notes at checkout.
info@crimsonandlace.com